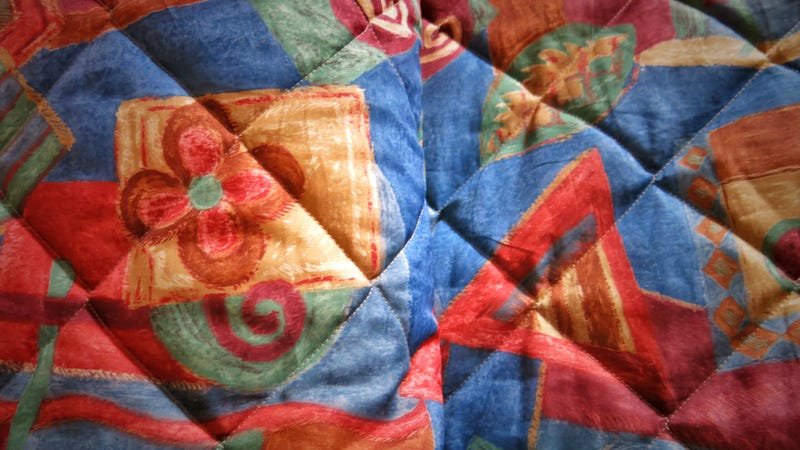 Hey, let's take a road trip – just the two us on the open road, exploring this lovely country of ours, taking plenty of pictures, sampling several diners along our route, chatting with a couple locals, and hopefully not getting completely sick of each other along the way. Doesn't that sound fun? Your damn right it does!
So where are we going? When are we leaving? Good questions – such inquisitiveness is part of what makes you such a good road trip buddy (also, you agree with me that whoever is driving controls the stereo, and you don't yammer on incessantly just for the sake of making idle chit-chat – you know that if there's nothing to talk about, you should just shut up and enjoy the scenery until you spot a ridiculous billboard or odd roadside attraction that sparks the conversation up again).
We are going to drive from Nashville, Tennessee to Fairfax, Virginia, beginning on Wednesday, June 4 and getting back home on June 10. Though the drive can be completed with relative ease in one day, we're going to take our time getting there. Along the way, we're going to spend a night in Roanoke – which is quietly transforming into a terrific city – and Winchester – a small town towards the top of the Shenandoah Valley that has a very lovely downtown. After spending the weekend in Fairfax, we're going to try and head back to Nashville in one day, but poop out and end up spending the night in Knoxville instead.
We are young (play along), foolish, and not in the best of economic shape, so we are going to do this as affordably as possible (which is why we're staying in Fairfax and not Washington, DC – I'll expand on this later). That means we'll be staying in cheap motels. And we're going to do our best to make those cheap motels even cheaper.
Read that last paragraph again. We are not trying to get the biggest discount out of a nice hotel – the $120 Hilton Garden Inn that pops up on Expedia for $89 is still way out of our price range. We're going as cheap as possible and trying to wring a few extra dollars in savings out of that – savings we can use towards enhancing our experiences during our trip (and, really, the unpredictability of cheap motels plays a big role in that experience – when was the last time you heard a crazy, entertaining story that took place at a Hilton Garden Inn?). If the concept of staying at a cheap motel is anathema to you, then maybe go ahead and jump ship right now. And if you're a fuddy duddy that thinks we should put off our road trip until we've saved up a little more so that we can stay at nicer places, all I can say is . . . man, sometimes when the road calls, you just gotta go.
So let's go. You grab some snacks. I'll fill a cooler with drinks.
* * * * * * * *
For our evening in Roanoke, we will be using a hotel coupon book.
These can be found fairly easily at most rest areas on the interstate. You might also be able to find them at fast food restaurants and outside grocery stores. Of course, if you don't feel like going on a scavenger hunt for hotel coupon books, most of them nowadays also have websites (the ones pictured can be found at hotelcoupons.com and travelcoupons.com) and mobile apps where you can print the coupons ahead of time.
Pros: These are usually the best deals you can find.
Cons: It's a walk-in rate – in most cases, you're not going to know if that rate's going to be available until you show up at the motel. After certain hours (i.e once they have a sense of their inventory for the night), some places will go ahead and make a reservation for you if you call ahead. Most places won't, though – if you call ahead, they'll tell you whether or not the rate is available, but they'll point out that things could change by the time you show up with that clipped coupon in your hand.
Read the fine print on the coupons: some of them are only valid on weekdays; almost none of them are valid on holidays or during special events; some even specify that the coupon is not valid if you live within a certain distance of the motel. Also, if you're staying multiple days, the coupon is usually only valid for the first day. That's why we're using it here in Roanoke instead of during our weekend in Fairfax.
Let's see what we can find in Roanoke on June 4. Both of the coupon books pictured above feature a Howard Johnson (with breath-taking views, according to the coupon) in Roanoke for $39.95 – the cheapest of all the coupons available for the area. A quick check at the Howard Johnson web site shows that the regular rate for that motel is $55. If you book it in advance through the site, you can get the room from anywhere between $49.50 and $46.75 (if you book and pay in advance). The coupon book, then, can save you anywhere from $6.76 to $15.01.
However, that Howard Johnson is almost 10 miles out of town (there's another Howard Johnson that's closer, and . . . well, I've stayed there before and the only breath-taking view was the view of police officers trying to quell the domestic violence situation that was happening at the other end of the motel). Going back to the coupon books, there's also a $44.95 coupon for a Ramada that's by downtown – the regular price for which is $64 (Priceline and Travelocity also currently show this price).
Given that you'd be saving up some gas by staying closer to town, this is the place I would pick – the money we'd save could be used towards a tasty meal at the Cuban restaurant downtown. We'd also be a couple minutes away from the park that provides this lovely view:
For our evening in Winchester, we will attempt to use AAA, because there's a special event in town – let's move the Hop Blossom Craft Beer Festival forward by a couple days, and let's pretend it draws thousands of people from around the country – and that's preventing us from using the coupon books.
Pros: Most places offer a AAA (or CAA for our Canadian friends) discount.
Cons: You've got to be a AAA member, as – unlike in some other situations (we'll get to those soon) – you're almost always going to be asked for your AAA card at the front desk.
More importantly, though, when it comes to cheap motels, it's just not much of a discount.
Using the AAA site, the least expensive options in Winchester on the second day of our trip are America's Best Value Inn ($45) and Motel 6 ($46). Over at Priceline, the America's Best Value Inn is a dollar cheaper. Meanwhile, the Motel 6 site has an internet-only rate of $38.69 for a one bed, or $44 for two.
The next cheapest options in town are $51.29 at Super 8 (with the AAA discount) or $53 at Econo Lodge (an advanced purchase rate that's $3 less than the AAA discount).
What I'm getting at is that the idea of a AAA/CAA discount is nice, but it rarely gives you the cheapest option. However, AAA/CAA is still a good thing to have that pays for itself pretty quickly if you know how to use it (and, obviously, it's plenty helpful if your car breaks down on the side of the highway). For example, we will be using it to get a discount off our meal at the Denny's that's near the Motel 6 where we'll be staying. Then – since we saved even more by getting the room with a single bed (and since you stayed out of view while I booked the room so that they didn't charge me extra for a second person – also, remember we're good friends so sharing the bed is totally fine) – we're going to take a stroll around downtown after dinner and use our savings to get some dessert at Red Fox Creamery.
For our weekend in Fairfax, we're going to hit up the booking sites and shop around.
Let's clarify the Fairfax part first (which will hopefully distract you enough to not notice that I've dropped the 'pros' and 'cons' section for these last two parts) . Most of our time in Fairfax will be spent sleeping or watching crappy TV while waiting to fall asleep, or staring at the ceiling while lying in bed, grumbling underneath our breaths about how it was a mistake for us to go on a road trip together because it turns out that we're really not that compatible after all. While we're awake, the majority of our weekend time is going to be spent in Washington D.C., going Full Tourist as we venture through all the memorials and Smithsonians (even the Postal Museum!) until we have to crawl back in exhaustion to the Metro station at the end of the day.
Why are we staying in Fairfax? Because if we venture any closer to Washington from here, the cost of a place to stay is going to get ridiculously out of our price range. Also, the motel that we're going to end up choosing is a mile away from a Metro station (the Orange line, which drops you off right at the National Mall). The parking garage at that Metro station is free on the weekends. As a result, our weekend activities aren't going to cost much more than the Metro fare, the 30-45 minutes of our time it takes the train to get us to D.C. and back, and whatever hot dog or food truck fare we find at the Mall, all while staying at a place that's almost half the cost of anything in D.C. proper. That's a pretty damn good deal, and greatly helps to justify this road trip that our broke asses decided to take.
So where in Fairfax will we be staying? I will tell you by finally getting around to the usual way that I've started all of my motel-related postings prior to this one:
I am writing this from Room 119 of the Rodeway Inn in Fairfax, Virginia. It's as happily nondescript as a motel can be – pleasant, with no real criticism to be found beyond the fact that where they set the hand towels in the bathroom is dangerously close to my I'm-too-busy-checking-my-phone-to-see-where-I'm-aiming zone:
Along with its proximity to the Metro station, the motel is across the street from a shopping center that provides a good variety of dining options (American, Vietnamese, Korean, Popeye's-ian), with several more options just a block or two away. Because of this, I stayed here last year. It's why I'm here right now. And it's why we're going to book it for our road trip weekend, doing so directly through the Rodeway Inn site (you can also go through the Choice Hotels site, as Rodeway is one of their brands) instead of using any of the other booking sites.
And why is that? Well, the simple answer is that their advance-pay rate of $63 ($11 less than the regular rate) is the cheapest option compared to what the other booking sites show (all the ones I'm searching on – Priceline, Travelocity, Hotels.com, and Kayak – show comparable to slightly-cheaper options either in Manassas or by Dulles Airport, and some of those are really nice hotels like Courtyard and Residence Inn, but they would take us much, much longer to get to Washington using public transportation). Really, if your money's stretched thin and you have no choice but to go with the cheapest thing you can find, these booking sites are not going to help, as they're more focused on trying to get you into a nicer place than getting you to the cheapest place (notice how all these sites use bright colors to put the number of stars a hotel has right next to the hotel's name, as if they're implying, "You wouldn't book a room at a one-star hotel, right? Only a schmuck would do something so foolish." Also notice that those stars don't exactly jibe with the reviews – this 1-star Rodeway Inn actually comes off pretty well in the Priceline reviews). They're still worth checking out though, especially if you don't mind spending a little extra, or especially if you're visiting a smaller town in which lodging is already inexpensive to begin with (for example, this is how I end up staying at a fairly swanky hotel whenever my job sends me to Dayton, Ohio) – might as well get the most bang for your buck. In our road trip scenario, though, it just doesn't work – the proximity to the Metro station that this cheap and perfectly-competent Rodeway Inn provides trumps any extra amenity that a slightly-nicer place can offer.
Holy crap, I swear I'm almost done.
Speaking of done, our time in DC has come to an end. What was your favorite part? Was it the Lincoln Memorial? Or seeing the flag that inspired the Star-Spangled Banner? Or how about . . . [sigh] . . . it was Dorothy's ruby slippers, wasn't it? All that amazing art and history, and most of your pictures are of the ruby slippers, right? Jeez – how did we end up being such good friends?
We're heading home, but we're still too tired from the weekend to do the drive in one shot, so we're going to go as far as Knoxville to see the Sunsphere, then call it a day. We have no idea where the hotel coupon book went, and don't feel like searching fast food places to find one. And I can't find my AAA card, either. So how are we going to find the cheapest option this time?
Solely in the interest of showing you as many options as possible, we're going to cheat a little bit.
For our final stop in Knoxville, we're going to use a corporate code.
You know how Lifehacker does an Evil Week every year, and they preface every post by saying that this is for information sake's only and they don't condone doing whatever it is that they're about to explain in great detail? I'm going to do that now, minus the great detail.
Here's the preface: I don't do this – I have no need to. I'm not going to condone it (in our road trip scenario, this was your idea – shame on your ruby-slipper-loving ass for dragging me into this). At the same time, though, I'm not going to pretend it's not an option.
And here's the evil part: Corporate codes offer a discount that's anywhere between 10 and 30 percent less than the regular rate. Corporate codes are not too difficult to find online. Unlike the AAA discount, hotels rarely ever ask for proof that you are employed by the company whose corporate code you're using. That's why we're wrapping up our cheap motel road trip adventure at a $45 Super 8 in Knoxville that we got for a hair over $30.
I'll leave it at that. After a nice sleep, we awake to June 10 and a short, two-and-a-half hour drive back home. Our road trip is over. We had a great time, saw many great things, and did it all as affordably as possible. And after all those days spent together, we don't want to be anywhere near each other for at least a couple months.
Previously:
Dealing With Bugs | What's The Difference Between A Motel And A Hotel? | Trusting WiFi|Dealing With Other Motel Guests | Dealing With Expectations | When Should You Opt For The Cheap Motel? | Should You Tip The Housekeeper? | On The Expectations And Unpredictability Of WiFi
What are your tips for getting a cheap motel, whether evil or perfectly angelic? Do you have any tips for getting a nice hotel for the price of a cheap motel? Do you think I should have brought up other options, like hostels, campgrounds, couchsurfing, and AirBnB? Do you have plenty of other holes to punch in my road trip scenario (I know you do)? After reading all this, would you even want to take a road trip with me? Anything constructive on this topic that you wish to leave in the comments would be much appreciated.
The photo at the top of this post is of the comforter at the Rodeway Inn in Fairfax. More of my motel pictures can be found at my Tumblr page, Motel Interiors. The other pictures in this post are also by me - more of those (but none involving toilets, thankfully) can be found at my Flickr page. You can also follow me on Instagram if you wish. If there's anything you'd like to say outside of the comment section, please drop a line at carl@honeybrownblues.com.